Madison Gallery
A 30-year veteran of the art world, Lora York opened
Madison Gallery
in 2001 to share her passion for art with the Solana Beach community. The gallery curates and exhibits various contemporary art created by emerging, mid-career, and established international artists. In addition to showcasing artwork, Madison Gallery offers a complete range of services to seasoned art collectors and first-time buyers, including in-home curation, personal collection development, on-site consultation, virtual preview, international sourcing, and worldwide shipping.
Madison Gallery is currently featuring a solo exhibition of large-scale paintings by Willian Lachance called California Psychics. "California Psychics is a series of large-scale, frieze-like paintings as escapist freedom fantasies painted largely during peak COVID lockdown and spanning to the present." The exhibition ends on November 14th, so set aside some time to visit the gallery to see Lachance's thought-provoking art. There are dozens of other artists whose work is displayed here, including Mel David, Robert Montgomery, Donald Martiny, and Karen Silve, just to name a few.
WestEdge Gallery
WestEdge Gallery
in Solana Beach is the working studio and gallery of artist Kirk Saber. The door is open daily, though you should call or text ahead of time for a guaranteed viewing. The beauty of Saber's work is the lack of formal training, instead of teaching himself how to paint by meticulously studying old and contemporary masters. Inspired by Malthus and Van Gogh, his work was encouraged and collected by David Hockney early in his career.
Saber's work is eccentric and captivating, converting emotion and passion with the stroke of a paintbrush. He paints in the symbolic, with the energy of a daydreamer, bound by no rules of the art world. Saber has received international attention, and his proximity to the entertainment industry has garnered him collectors such as Arnold Schwarzenegger, Ted Danson, Woody Harrelson, and Glenn Close. His work ranges from seascapes and sculptures to figurative and abstract paintings. Stop by WestEdge today to glimpse the eclectic work of Kirk Saber.
Del Mar Art Center Gallery
The Del Mar Art Center aims to increase public exposure to quality art, foster an appreciation of the arts, present art events, and demonstrations, and provide space for local artists to showcase their work. The
DMAC Gallery
is a nonprofit organization that contributes to charitable institutions and aids the community through art. The gallery is open to all developing artists living in the San Diego area.
There are currently 24 artists that display their work at DMAC, including Darlene Katz, Rosemary Valente, Luciano Demasi, and Mona Ray. Glimpse the "Art with a View" show on the fourth Saturday of every month, where the artists of DMAC Gallery present their work on the top level of Del Mar City Hall. A new gallery in Del Mar is opening soon, with current exhibitions presented in three venues, two in Del Mar and one in Carlsbad. Get insight into the minds of local San Diego artists by visiting one of these locations.
Aaron Chang Ocean Art Galleries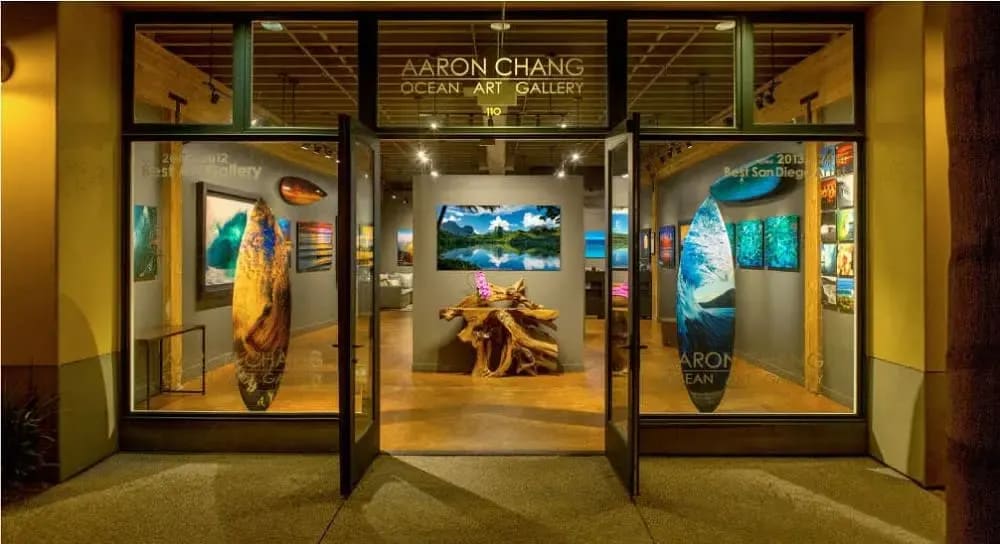 The
Aaron Chang Ocean Art Galleries'
mission is to "Create art that instills a sense of wonder in the beauty of creation, presented in a gallery that conveys an atmosphere of excellence and staffed by happy, motivated art consultants who focus on an excellent client experience." The Solana Beach gallery enriches the lives of locals, cultivating a more enlightening and cultured community to appreciate the ocean in all its glory.
Aaron Chang's work is displayed in the award-winning flagship Solana Beach gallery (as well as the Carmel-by-the-Sea gallery upstate). His surfboard sculptures and large-scale photographic prints with surf and ocean themes capture the beauty and essence of the ocean, its waves, and its majesty. Chang's work has been featured in various notable publications, including San Diego Magazine, The Surfer's Journal, Surfing Magazine, Ranch & Coast Magazine, and Sports Illustrated. Having moved to Hawaii to surf and shoot photos, the gallery is teeming with shots influenced by first-hand experience. If the sea and surf beckon to you, stop by Aaron Chang's Solana Beach gallery today.
Exclusive Collections Gallery
Presenting the work of young artists just coming into view, as well as highly-acclaimed international masters, the
Exclusive Collections Gallery
provides a space where patrons and artists can meet to share their passion for art and build long-lasting relationships through the joy of collecting fine art. The gallery hosts a fantastic line-up of gallery events throughout the year, giving visitors the chance to learn what inspires the artists and share their own experiences resulting from their love of art and art collection.
The Solana Beach gallery was opened in 2018 and offers endless wall space to display exceptional artwork in a welcoming environment for collectors and new visitors alike. Some featured artists include metal sculptor David Bruce, contemporary painter Jens Rossen, and whimsical painter Oleg Tchoubakov. The collection of exclusive artists and their work vary significantly in style, media, and emotional evocation. Visit the Solana Beach gallery to peer into the worlds of many incredible artists.
Susan Street Fine Art Gallery
Susan Street Fine Art
is one of Southern California's premier contemporary art resources, specializing in art consultation for private and public collections. The gallery boasts original paintings, sculpture, photography, and works on paper by nationally and internationally recognized artists working in a broad range of mediums and styles. Susan Street Fine Artworks closely with clientele to find artwork suitable for their homes or corporate offices. As consultants, they specialize in building collections that reflect the client's taste, priding themselves on acquiring essentially any work of art, whether it's in their inventory or not. Stop by if you're a big collector or need assistance finding pieces to decorate your home or bring warmth and life to your office space.
Zagö Studio Gallery
Gallery owner and artist Adriana Zagorsky and director Ethan Wayne carefully curate artwork by an exclusive group of modern masters and mid-career international artists at
Zagö Studio Gallery
. The gallery is located in the heart of the Cedros art and design district, the epicenter for art galleries, interior design firms, architects, and distinctive retailers.
Various contemporary pieces are on display, featuring Adriana Zagorsky, Isabelle Beaubien, Frank Arnold, and Jay Johansen, among others. You'll find everything from homages to iconic movie stars to intriguing paintings composed with vibrant colors and various textures. In addition to showcasing international artists, the studio offers lithographs and works on paper by brilliant and world-renown artists Pablo Picasso, Andy Warhol, Joan Miro, Francis Bacon, Alexander Calder, Marc Chagall, and Salvador Dalí.
Joyce Schleiniger
Joyce Schleiniger is a Brazilian artist who has received multiple international awards and participated in many individual and collective exhibitions in drawing, painting, and sculpture. She has developed a consistent body of work, particularly in sculpture. Her incredible work has been commissioned by many, with permanent public pieces displayed in Brazil and California. She was commissioned to paint a mural for the Naval Hospital in Oceanside, and was most recently commissioned by the city of Encinitas to paint two murals for the "Encinitas Up Close Project."
Schleiniger creates her mural with various materials, including stoneware ceramic, clay, paint, and terracotta. Her studio features art suitable for indoor/outdoor decor, functional pieces, portrait sculptures, and commission work—namely murals and ceramic tiles. In addition to an engaging art collection, she provides restoration, kiln firings, classes, workshops, and consultation services. Make an appointment to view her impressive assortment of work.
Christine Finkelson Fine Art Photography
Growing up surrounded by photography,
Christine Finkelson
developed her affinity for art at a young age. Her grandfather was an avid amateur photographer who inspired her craft, and she has trained as an actress, writer, and filmmaker. She always had a camera during her days at the Esper Studio and the New School for Social Research, falling in love with photography with her move to New York in 1994. She started studying the craft at the International Center for Photography in N.Y.C., trading stage time for strobe lights.
Finkelson's work is inspired by her international travels and art forms—film, literature, painting, sculpture, and exceptional past and present photographers. From walking the Hobart waterfront in Tasmania to cropping and editing street art photos from various cities, her work provides a deep and comprehensive look into culture and perspectives worldwide.
Looking for Luxury Real Estate in the San Diego Area?
If you're an art lover looking to move to North County or San Diego, make the most of your search by contacting the leading Rancho Santa Fe real estate agent,
K. Ann Brizolis. Brizolis
has marketed and sold many of Rancho Santa Fe's most prestigious homes and will help you find the Del Mar, Rancho Santa Fe, or San Diego real estate of your artistic dreams.